Newsroom
Undergraduate Research Fair 2017
The 2017 Undergraduate Research Fair on Friday March 31, was one of our largest ever, with 36 posters from 20 different labs. The quality and professionalism of our undergrad project students was astounding, matched only by their knowledge and enthusiasm for the diverse and interesting research they took part in!
Please give special compliments to our Poster Prize winners! This year we had 4 categories with an award winner and runner-up in each, as usual being a challenge for our panel of judges to make their selections. Congratulations go to…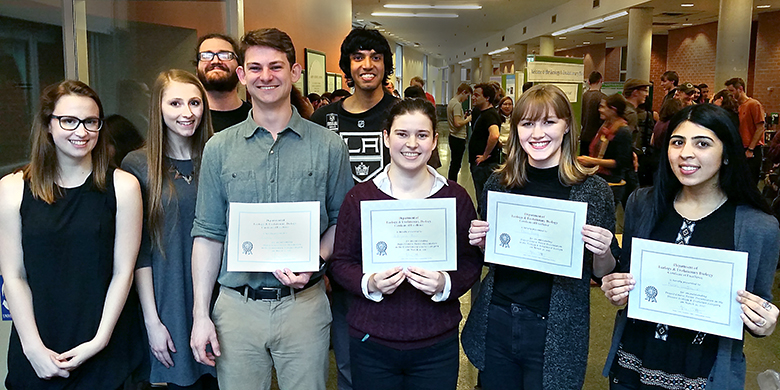 Poster prize awardees (left to right, front row with award certificates): Zachary Moore (Evolutionary Ecology, Gilbert lab), Andrijana Stanic (Evolutionary Genetics, Agrawal lab), Dana Berg (Ecology & Behavioral Ecology, Jackson lab), Kiran Wadhawan (Disease Ecology & Evolution, Mideo lab)
Honorable mention awardees:, Hannah Barnard-Chumik (Disease Ecology & Evolution, Krkosek lab), Sarah Hall (Evolutionary Ecology, Weis lab), Mark Hibbins (Evolutionary Genetics, Agrawal lab), Suhas Srinivasan (Ecology & Behavioral Ecology, Gilbert/Mideo labs)
I want to thank all of the students for participating in this year's Undergraduate Research Fair and for devoting so much care and thought and passion to their research. I also want to thank their supervisors for giving our undergrads these amazing research opportunities! This includes professors as well as the fantastic effort put in by gradstudent and postdoc mentors. This year's panel of 8 judges also faced the tough job of selecting prize winners from the impressive collection of research presentations: Art Weis, Corlett Wood, Stephen Wright, Luke Frishkoff, Nicole Mideo, Roxanna Khoshravesh, Megan Frederickson, Megan Greischar. Thanks all of you!
Finally, we should all be grateful to the hard work of the undergrad office staff for putting the event together! Thanks to Colleen de Borst Kerluk, Daisy Lyman, and especially Genna Zunde! Bill Cole and Olivera Joksimovic and student volunteers also are much appreciated for their help in setting up the event, and the department chair Don Jackson's continued financial support for the Research Fair was critical to making it another success.
Thanks!
Asher Cutter
Professor, Associate Chair, Undergraduate