Newsroom
Plastic pollution expert Chelsea Rochman receives 2021 President's Impact Award
Fifteen years ago, when Chelsea Rochman was searching for a graduate program that would allow her to study plastic debris and its effect on the environment, she met with resistance, a lack of interest and a lack of opportunities.
But she eventually found a program and today Rochman is regarded as a pioneer and global leader in the study of plastic pollution: where it comes from, what damage it is doing and how we can mitigate its effects. Within the field, she is also a leader in informing national and international policy, in outreach and education, and in building the capacity to study and respond to the issue.
For this work, Rochman, an assistant professor in the Faculty of Arts & Science's Department of Ecology & Evolutionary Biology (EEB), has received a 2021 President's Impact Award (PIA), given by the University of Toronto to faculty members whose research has had significant impact beyond academia.
She has also been honoured with the Carolyn Tuohy Impact on Public Policy Award, presented jointly as part of the PIA and the University's Awards of Excellence programs.
"I am incredibly honoured to receive the President's Impact Award and Carolyn Tuohy award," says Rochman. "I became a scientist because I believe that scientific evidence should inform decision-making. My overarching goal has been to use the scientific method to create new knowledge that could inform positive change.
"These awards not only celebrate this application of science, but also provide resources to continue my work with these goals in mind. Receiving these awards, and being recognized for turning research into application, means the world to me."
Rochman is one of five U of T faculty receiving a PIA this year. Each will receive a grant of $10,000 a year for five years for use in their research and impact activities. As well, the honourees will become members of the President's Impact Academy for a minimum of five years during which time they will advise the Vice-President, Research & Innovation on research and innovation impact within and outside the University.
As recipient of the Carolyn Tuohy Award, Rochman will receive a one-time prize of $2,000.
"Professor Rochman's foresight in recognizing the threat from plastic pollution early on is remarkable," says Melanie Woodin, dean of the Faculty. "The impact she has had in tackling this problem makes her truly deserving of both awards and I look forward to seeing her continued efforts."
In addition to these awards, it was announced on March 29 that Rochman will receive funding from the Government of Canada's Ministry of Fisheries, Oceans and the Canadian Coast Guard to study the ecological impacts of microplastics on fish and their associated food web.
Over the course of Rochman's career, plastic pollution has grown to become one of the greatest global environmental challenges today. Marine organisms ingest plastic and become entangled in it; microplastics infuse aquatic ecosystems; and a growing body of research shows that plastic pollution is negatively impacting ecosystems, biodiversity and human health.
Since early in her career, Rochman has made groundbreaking, fundamental contributions to our understanding of the problem. Her early studies showed that plastic resulted in liver toxicity and endocrine disruption in fish, and that plastic affected organisms and ecosystems at different levels. This foundational work demonstrated the need for further research into the ecological impacts of plastic debris.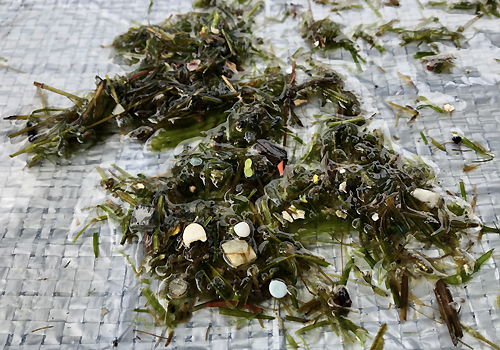 Today, Rochman and her research group continue to study how pollution affects organisms, populations and communities; the sources of microplastics and where they end up; and how pollutants from such sources as vehicle tires, road salt and trace metals affect local waterways and Lake Ontario. She conducts research in the Canadian Arctic, Toronto watersheds, the Great Lakes and at Northwestern Ontario's Experimental Lakes Area (IISD-ELA).
At home and around the world, Rochman is helping to build the capacity to study and respond to the problem. In addition to her role as a supervisor, mentor and trainer, she co-founded the U of T Trash Team in 2017 which leads community cleanups, runs school programming, participates in community events, and conducts research. The group recently launched a Seabin program with PortsToronto and is expanding their program into a network with Ocean Conservancy across Canada and beyond.
She is working with various agencies in California to help them establish monitoring programs. In Indonesia, she worked with universities and governments to increase their ability to study the issue. And in Vietnam, she is helping local NGOs and governments to monitor plastic pollution with the goal of informing a national strategy.
Beyond the lab, Rochman has worked with industry, government, non-governmental organizations and the public to inform policy related to her research. She has testified in hearings in the U.S. regarding plastic pollution legislation; she has been part of United Nations Environment (UNE) proceedings looking into a global treaty on plastic pollution; and her research has informed U.S. Environmental Protection Agency decision-making.
She has also been a member of advisory panels for Canada, the U.S., the EU, the G7, APEC and the UNE. And in Canada, she has worked with the Canadian Council of Ministers of the Environment and federal Ministers of the Environment on plastic pollution prevention strategies.
"The issue of plastic pollution is growing," says Rochman about the task ahead. "Annual plastic emissions into aquatic ecosystems may triple within this decade if we continue business as usual.
"To overcome this challenge, we need to rethink the way we make, use and dispose of plastic — flipping our current linear model into a circular economy. Because this will take time, we need policies put in place now to more sustainably manage plastic waste, prevent emissions of microplastics, clean-up plastic litter currently in our environment and reduce our use of unsustainable single-use plastics."