Newsroom
Stephen Wright recipient of the 2023 CSEE President's Award for Research Excellence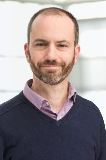 Professor Stephen Wright is the recipient of the 2023 President's Award for Research Excellence! Stephen is an internationally recognized leader in evolutionary genomics, focused on understanding the processes driving patterns of genome evolution in natural plant populations. Congratulations Stephen!
Click to view official announcement
CSEE President's Award Plenary will be held on June 14th.
Stephen will be presenting his plenary address: Adaptation and maladaptation in plant genomes.