Newsroom
In the Media: The trash clogging Toronto's harbour has been turned into art — CTV News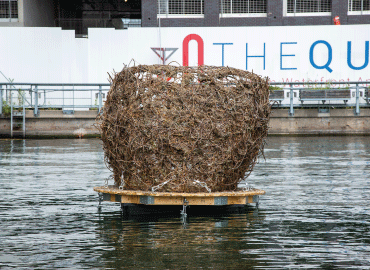 Visitors to Toronto's waterfront can now enjoy a unique art installation called Tangle, a sculpture made of branches, invasive plants and trash collected from Toronto harbour by U of T's Trash Team.
The piece, located in Harbourfront's Peter Street Basin, is designed to raise awareness of the refuse we routinely see in our waterways. It contains everything from polypropylene bags to microplastic particles to discarded toys and was created by the Trash Team's artist-in-residence, Emily Chudnovsky.
"We produce so much waste as a global society," Chudnovsky told CTV News. "How can we use less material and how can we learn from the natural world, which has many different systems for filtering waste, repurposing waste and not producing waste?"
The U of T Trash Team is made up of undergraduate and graduate students, postdoctoral fellows, researchers, local volunteers and staff working in collaboration with Chelsea Rochman, a professor in the Faculty of Arts & Science's Department of Ecology & Evolutionary Biology.
Read the full story and watch the video: