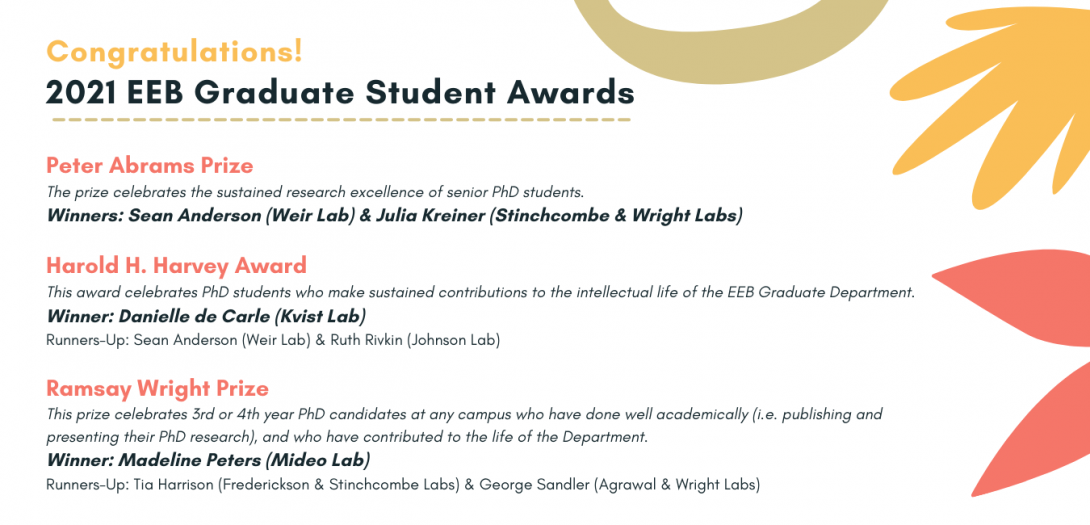 Peter Abrams Prize:
The prize celebrates the sustained research excellence of senior PhD students.
Winners: Sean Anderson (Weir Lab) & Julia Kreiner (Stinchcombe & Wright Labs)
Harold H. Harvey Award:
This award celebrates PhD students who make sustained contributions to the intellectual life of the EEB Graduate Department.
Winner: Danielle de Carle (Kvist Lab)
Runners-Up: Sean Anderson (Weir Lab) & Ruth Rivkin (Johnson Lab)
Ramsay Wright Prize:
This prize celebrates 3rd or 4th year PhD candidates at any campus who have done well academically (i.e. publishing and presenting their PhD research), and who have contributed to the life of the Department.
Winner: Madeline Peters (Mideo Lab)
Runners-Up: Tia Harrison (Frederickson & Stinchcombe Labs) & George Sandler (Agrawal & Wright Labs)