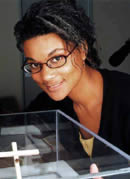 People
Maydianne C. B. Andrade
Professor, CRC
BSc, Simon Fraser University
MSc, University of Toronto
PhD, Cornell
Phone

416-287-7425

Lab Phone

416-287-7124

Office

SW 551

Lab

SW 429

Email
Prospective Students
I am currently accepting MSc and PhD students. Interested applicants should send a CV, an unofficial transcript along with a cover letter summarizing their research interests, academic background, and skills. Please check my lab website for additional details.
Research
We seek to understand
how sexual selection, social behaviour, and ecological conditions affect the evolution of mating strategies and morphology.
the mechanistic traits underlying fitness. We measure physiological and morphological correlates of competitive success, development, and endurance to provide tools and suggest processes critical to understanding behavioural and morphological evolution.