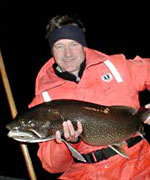 Assistant Professor, Status-Only
PhD, University of Western Ontario
Phone

705-755-1550

Lab Phone

613-637-2103

Email
Prospective Students
I am currently accepting MSc and PhD students. Interested applicants should send a CV, an unofficial transcript along with a cover letter summarizing their research interests, academic background, and skills. Please check my lab website for additional details.
Research
My research covers basic and applied areas of fish ecology and aquatic science in support of resource policy and management for the Ontario Ministry of Natural Resources. Questions ranging from behavioural and population ecology, life history and habitat use through to watershed scales are topics of interest to me.
My recent areas of concentration are:
Fish monitoring and habitat ecology
Lake Huron coastal ecosystems
Reproductive and population ecology of smallmouth bass ~ a long term study of the nesting population of smallmouth bass in Jones Bay, Lake Opeongo.
Brook trout ecology, life history and conservation

Check the aquatic research list for more descriptions of these and other projects.
Cross-Appointments:
Watershed Ecosystems Graduate Studies, Trent University
Dept. of Ecology and Evolutionary Biology, University of Toronto