Newsroom
Marc Johnson awarded the prestigious E.W.R. Steacie Memorial Fellowship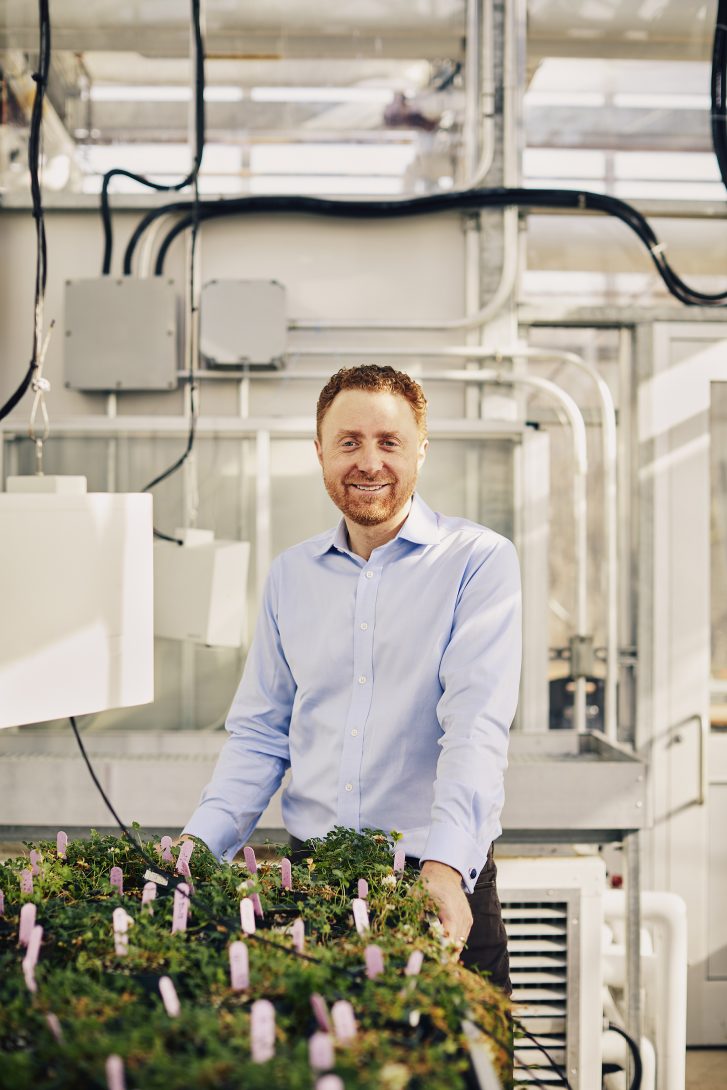 UTM evolutionary biology professor Marc Johnson had big plans for last May. He and his family were on tap to travel to Ottawa. They were going to stay in a fancy hotel, attend a reception at the Governor General's residence and meet with Prime Minister Justin Trudeau.
Then COVID-19 happened and their trip wasn't just cancelled; Johnson was asked to keep his lips sealed about the details behind all the pomp and circumstance.
His secret was finally revealed on Nov. 10 when the Natural Sciences and Engineering Research Council of Canada (NSERC) announced Johnson was awarded the prestigious E.W.R. Steacie Memorial Fellowship. Presented annually to up to six early-stage academic researchers, the fellowship offers $250,000 over two years to help "enhance their research capacity, so that they can become leaders in their field and inspire others," according to the NSERC website.
The fellowship honours the late Canadian scientist Dr. Edgar William Richard Steacie, who was widely recognized for his research in chemical kinetics and his commitment to fundamental research without boundaries. Through the National Research Council of Canada, which he led from 1952 to 1962, Steacie established the postdoctoral fellowship program that remains the springboard for countless scientific careers.
Many notable Canadian scientists, including geneticist David Suzuki, have been recipients of the Steacie fellowship.
"I was over the moon," Johnson says of the call he received with the news. "It's the honour of a career, maybe the greatest I will receive."
He calls the fellowship a "game-changer," both for the funds it provides and the time to focus exclusively on research without teaching and administrative responsibilities. The Steacie fellowship includes a stipend to help UTM hire instructors to replace Johnson for the next two years.
"It's the time I'm most excited about. This is more important than any money they could have given me," he says.
Since quietly beginning his appointment in July, Johnson has been focusing on two major research projects. The first, the Global Urban Evolution Project (GLUE), is the world's largest collaborative study of how urbanization around the world is influencing the ecology and evolution of organisms.
"Cities are the fastest growing ecosystem in the world," he explains. "Eighty-two per cent of Canadians live in the cities and that is rapidly reshaping earth and life as we know it."
But scientists don't yet know what that means for organisms. The GLUE Project is asking whether organisms can adapt to urban environmental change, and how cities and climatic factors are influencing their movement and adaptation.
Johnson's EvoEco Lab at UTM has partnered with hundreds of scientists around the world to collect and study white clover, a plant prevalent in most global urban environments. More than 109,000 plant samples from 160 cities are now at UTM, where Johnson and his team are preparing to sequence 2,000 different genomes to pinpoint adaptations relative to urban location and climate.
Simultaneous to this work, he's undertaking a parallel study evaluating whether or not white clover growing outside of cities is adapting to global climate changes over time. "The earth is warming and we know the main reason for that is CO2 and greenhouse gases, but we don't know if organisms are adapting to those changes," he says.
Ultimately, Johnson hopes to apply the lessons learned from both projects to other organisms.
"We're developing a blueprint for understanding larger evolutionary problems. If our research suggests that organisms can't adapt to urbanization and increasing temperatures, then we may have to put some strategies in place to help species (including our own), ecosystems and our plant to persist into the future."
It's a big agenda, but one Johnson feels well prepared to tackle, thanks to the E.W.R. Steacie Memorial Fellowship.
"I can finally do all the things I've been dreaming about," he exclaims. "This is my opportunity to take my research to the next level and make discoveries that could change the world."