Peer Mentorship Program
Launched in 2018-2019, the EEB Peer Mentorship Program (EEB:PMP) connects incoming second year students into the department by pairing them up with an upper-year undergraduate.
Public health and physical distancing guidelines is changing the way the EEB:PMP will run this year. We are excited to introduce EEB Community Hubs!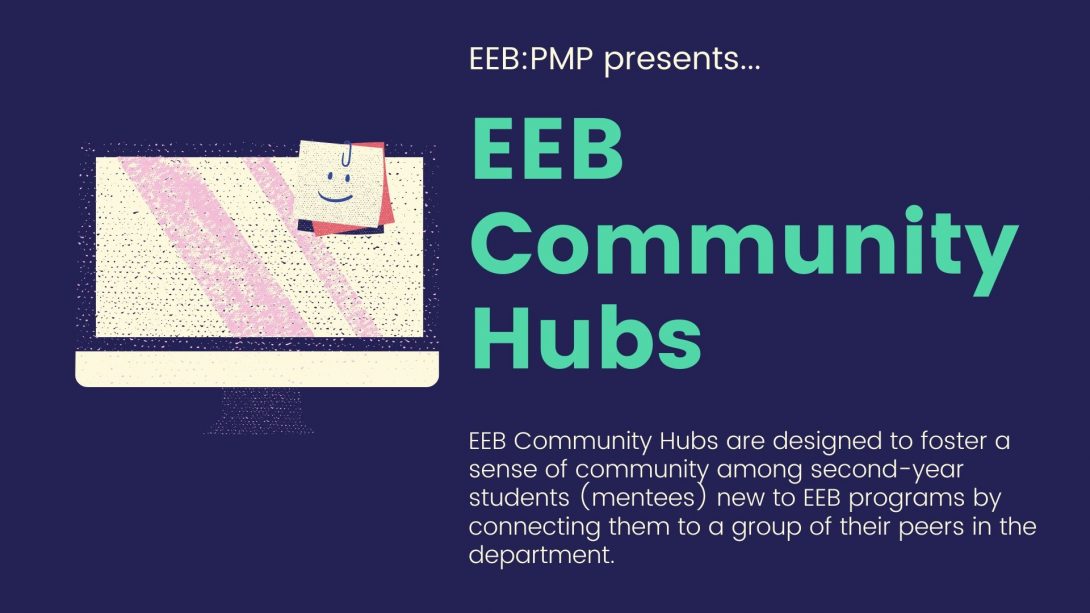 How does it work?
EEB Community Hubs are designed to foster a sense of community among second-year students (mentees) new to EEB programs by connecting them with a group of their peers. Each Community Hub will meet virtually and be guided by two Peer Mentors with the support of the EEB Undergraduate Office.
Peer Mentors will help mentees integrate into the EEB community; share the fruits of their experience; and ensure students are aware of the opportunities and resources EEB and U of T have to offer. Mentees will have an informal way of receiving important advice, guidance, and information as they navigate their degree path. Overall, EEB Community Hubs provide students with the opportunity to connect with their peers and build lasting relationships.
Community Hubs will get together virtually on a bi-weekly basis for useful and fun activities that cover a range of topics, such as: discussing courses, study tips, navigating the department, research opportunities, career options, note-taking skills, resources available at the University, how to talk to professors, getting to know your peers, school-life balance, networking, etc.
How can I join as a mentee?
Mentees must meet the following criteria:
Be a second-year student
Be enrolled in any of the following programs of study (POSt): Ecology & Evolutionary Biology (Specialist, Major); Biodiversity & Conservation Biology (Major); Environmental Biology (Major).
Mentee enrolment will remain open throughout the academic year. Please fill out the Mentee Application form to join.
If you are a Biology Major or Specialist who is taking a majority of EEB courses, and are interested in participating, please email Amy Huynh, Undergraduate & Student Outreach Coordinator, at undergrad.eeb@utoronto.ca.
When will my Community Hub meeting be held?
Your Peer Mentors will poll the group to find a mutually beneficial schedule that works for all members of the hub. Community Hubs will meet bi-weekly throughout the year, taking into account Reading Week and holidays.
How can I apply to be a Peer Mentor?
Applications Process
Peer Mentor recruitment has closed.
EEB Community Hubs relies on a team of dedicated and engaged upper-year students to act as Peer Mentors. As a Peer Mentor, you will work collaboratively to develop and facilitate engaging and inclusive bi-weekly sessions for second-year students, with the aim of building community and relationships with your peers.
"My greatest area of learning in this program has been learning from my mentee. I went into the program thinking that the mentor would mostly be "helping" the mentee. However, I found the meetings were informative for both myself and the mentee. I would approach a future mentorship/relationship with this in mind."

– Mentor
"I learned that EEB is a very useful and flexible program that can be applied to a lot of different opportunities and life skills! While my mentor and I have very different ideas in mind of how we will use our EEB education, we were able to connect on so many points and it was cool to see how EEB can be so applicable to a wide variety of careers."

– Mentee
"I learned that what is most useful in a mentor-mentee relationship is simply telling stories and sharing life experiences. This sharing of stories also helped build friendship and trust between me and my mentee."

– Mentor
"I think the most important thing I learned with the program was to think strategically about my undergrad (i.e courses, work-study, volunteering) and how I want them to help me in the future. I've applied this learning for choosing what I want to pursue in the summer as well as research opportunities."

– Mentee