Personal Safety & Property
Become well versed with the resources available for Personal Safety, what to do during Emergency Situations, and University's policies with Personal Property and Personal Information.
Personal Property is not covered by UofT insurance. The University is not responsible for any damage or loss to your personal items.
Personal Information for EEB employees, students and teaching assistants is available on our website. If you would prefer to limit the information available to others, please contact EEB reception.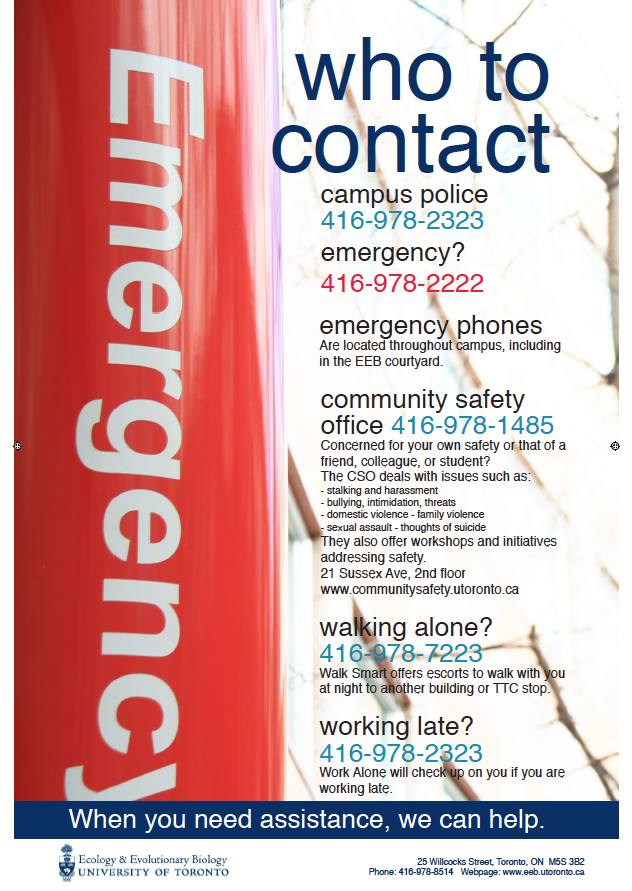 Personal Safety
When working alone, on weekends, evenings or nights, keep your office or lab door closed and locked. It is a good idea to let someone know that you intend to work late, alone. You should also let U of T Campus Police know what building and room you plan to work in.
The Work Alone Program is available to all members of the community who work on campus during the quiet hours of the evening, weekends, and statutory holidays. University Campus Police will visit or telephone you during the period you plan on working for, to make sure you are safe. They will also let you know of any emergencies in your area. Register by calling 416-978-2323. Hours of operation are Monday to Friday: 10:00pm to 7:00am; 24 hours during weekends and statutory holidays.
TravelSafer offers a safe and reliable alternative to walking alone on campus at night, from 7:30pm to 1:30am. TravelSafer provides escorts to walk you from one campus building to another, or to the nearest TTC stop or subway. You can contact TravelSafer by calling 416-978-SAFE (416-978-7233). If no one is available at this number, call UofT Campus Police at 416-978-2323.
Emergency
Police/Fire/Medical
Call 9-1-1 from an internal telephone line for immediate police, fire or medical response to preserve life or property.
Report urgent matters (suspicious persons/trespassers) to UofT Campus Police by calling 416-978-2222. To contact UofT Campus Police on any non-urgent matter, call 416-978-2323 or visit their website.
Emergency Telephones
These are located throughout campus to keep you safe. A blue flashing light indicates the location of an emergency telephone. When the button is pressed, it dials directly into the UofT Campus Police dispatcher and the caller's location is displayed to the operator. There are several emergency telephone locations on campus. The nearest location to the Earth Sciences Building is opposite the Forestry doors at Willcocks Street in the courtyard.
Fire Evacuation
In the event of a fire, or when the alarm sounds, evacuate the building. Walk quickly to the nearest exit and alert others to do the same. If necessary, assist disabled persons in exiting the building. NEVER use the elevators. Be familiar with the stairwells nearest to your work location.
There are five (5) stairwells in the Earth Sciences Building. They are:
North Huron Block stairwell at 25 Willcocks Street (Huron/Willcocks).
North stairwell at 33 Willcocks Street (near the Faculty Club).
South stairwell at 22 Russell Avenue (at the Department of Earth Sciences).
Central stairwell at Bancroft Street (between EEB and Earth Sciences).
Southwest stairwell at Bancroft Street on the Forestry side (near the GSU pub).
DO NOT return to an evacuated building unless directed to do so by the UofT Campus Police or Department staff.