Donald A. Chant Graduate Scholarship
The Donald A. Chant Scholarship was established by the family, friends, and colleagues of Professor Donald A. Chant. It is awarded to a graduate student, who has decided to focus their studies on those areas which are closest to Professor Chant's interests in conservation, ecology and evolution; to be awarded on the basis of academic merit.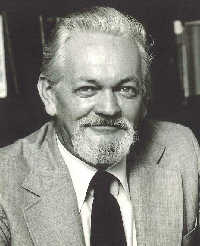 Professor Donald A. Chant was recruited from his position as Chair, Department of Biological Control, at the University of California, Riverside, to the University of Toronto where he served as Chair of Zoology from 1967 to 1975. Throughout this period Professor Chant maintained an active research program at the University of Toronto and served as Provost and Vice-President from 1975-1980. Thereafter he served as Chair and President of the Ontario Waste Management Corporation until retirement in 1994.
Donald Chant was appointed an Officer of the Order of Canada by the Governor-General of Canada, July 1988.
Dr. Chant served 15 years as a volunteer Chief Science Advisor to the World Wildlife Fund Canada, was elected Chair of the Board of Directors in 1994, and was also appointed to the International Board for a term of four years. The latter involved two or three meetings each year, under the chairmanship of HRH Prince Philip, in places such as South Africa, Geneva and Quito, Ecuador. Traditionally, the summer meetings of the International Board were held at Buckingham Palace, prior to Prince Philip's retirement last year. The Board of WWF Canada has some pretty interesting people: a former Prime minister, a former Speaker of the House of Commons and leaders from academia and the business community.
Professor Chant served on the Council of the Royal Canadian Institute and was Vice-President. The RCI is Canada's longest standing scientific organization (Sir Sanford Fleming was on of the founders) and it presents lectures on scientific topics for the general public on Sunday afternoons in the MedSci building at U of T. It also provides scholarships for graduating high school students who would not otherwise be able to attend university, and it makes grants for scientific equipment to local high schools. Don Chant participated in an editorial group, supervising the publication of a book commemorating RCI's 150th anniversary in 1999. The book focuses on the changes in the Greater Toronto area that have taken place in the last century, from an ecosystem perspective.
Dr. Chant's personal research on the systematics of the mite family Phytoseiidae continues with greater intensity than for many years now that he is free from other distractions. Phytoseiids are important predators of other, pest, mites of agriculture and horticulture. When Professor Chant began his research on these little animals in 1950, there were only about 20 known species; today there are more than 2,000. The systematics of the family has been chaotic over the years. This has impeded their use in biological control projects and obscured possible links between morphological features and predatory behavior, thus frustrating the rational selection of species for pest control.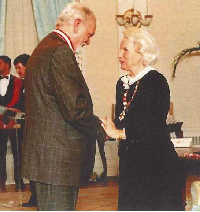 Professor Chant co-authored a monograph on two of the three subfamilies of Phytoseiidae, the Phytoseiinae and the Typhlodrominae, with about 550 known species. Since then he was engaged in the systematics of the third subfamily, the Amblyseiinae, with the balance of about 1,450 known species. This research built on his earlier work on population ecology, adaptive radiation, setal nomenclature and paedomorphosis in this group. Altogether, he published more than 125 papers on the Phytoseiidae.
Support Us
Help our efforts to educate and train the future designers of environmental sustainability.