Edmund M. Walker Biodiversity Graduate Scholarship
The Edmund M. Walker Biodiversity Graduate Scholarship was established by Dr. Rosemary Speirs and is matched by the Ontario Student Opportunity Trust Fund (OSOTF) and EAF. It is awarded to a graduate student in the Department of Ecology and Evolutionary Biology who is studying animal biology.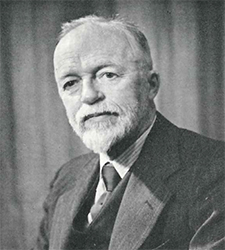 Edmund Merton Walker was the eldest son of Sir Byron Edmund Walker, banker, philanthropist, University of Toronto senator, governor, chairman of the board, chancellor and helped found the Royal Ontario Museum.
As a freshman, Edmund Walker "fell under the spell of Professor Ramsay Wright's famous course of first year lectures." He Graduated Arts, 1900 and Medicine, 1903,then a year at University of Berlin.
In 1934 Walker was appointed head of the Department of Biology. He had many attributes that endeared him to students and faculty: friendly personality, enthusiastic outdoorsman, highly knowledgeable with respect to invertebrates, made fine free blackboard drawings and his notes were artistically illustrated. Walker's appointment was popular both within the University and in the external community with recognition that his advancement was due to his own abilities and unrelated to his father's position within the university. Walker commenced the "democratization" of the department, holding periodic meetings of the faculty to discuss matters of policy, a practice unheard of under previous heads of the department. Walker was reputed to have collected more specimens in more different parts of the country than any other Canadian zoologist. His discovery of a primitive insect, which he named Grylloblatta, high in the Rocky Mountains attracted wide interest.
As head of Biology, Walker expanded the department with new faculty positions in physiology (termed 'Experimental Biology"), histology, human biology, invertebrate zoology, forest entomology and biology for premedical students. In 1941 the name of the department was changed to Zoology.
Professor Walker retired in 1948 and continued his research on dragonflies at the ROM for another decade and a half, culminating in the 3-volumes of "The Odonata of Canada and Alaska".
Edmund Walker also bequeathed an undergraduate Scholarship that bears his name.
Support Us
Help our efforts to educate and train the future designers of environmental sustainability.