Edwin J. Crossman Scholarship
Awarded to students in fourth year; either full-time or part-time status. Awarded on the basis of financial need; academic merit is also considered.
Awarded to students studying freshwater fishes, freshwater fisheries, freshwater ecology, or ecology (having taken at least one of the following courses:
EEB319H1, EEB321H1, EEB322H1, EEB324H1, EEB328H1, EEB382H, EEB428H1, EEB440H1.
Edwin J. Crossman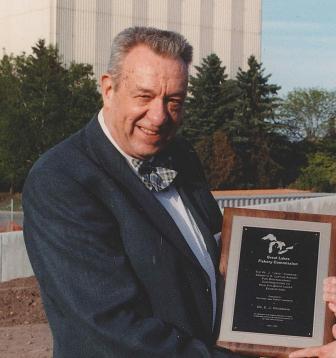 Edwin John Crossman was born in Niagara Falls, Ontario, in 1929, did his Bachelor's degree at Queen's and Master's at Toronto on the biology of a muskellunge population at Nogies Creek near Bobcageon,Ontario. For his doctoral degree at the University of British Columbia he studied the dynamics of a high-density population of redside shiners in relation to rainbow trout in Pinatan Lake. In 1957, he took a curatorial position at the Royal Ontario Museum and as a faculty member, Department of Zoology, University of Toronto. Ed focused much of his research on esocid fishes – the pike family – including muskellunge, pike, redfin pickerel andgrass pickerel. His interests spanned ecology, behavior, biology and systematics. Ed was a student of fishes in general and after a dozen years of collaboration with curatorial colleague W. Beverly Scott, they produced the Freshwater Fishes of Canada, some 900 pages of information on every known freshwater fish in Canadian waters.
Dr. Crossman contributed to many activities within the Museum, expanding the Reference Collection of Fishes,most especially the distribution of species within Ontario, and the creation of a new public gallery of fishes. Within the Zoology Department, Professor Crossman taught the ichthyology course and trained a dozen graduate students.He was called on for advice by both the federal and provincial governments in their concerns for threatened and endangered species (COSEWIC and COSSARO). The American Fisheries Society publishes the Common and Scientific Names of the Fishes of the United States and Canada each decade. Dr. Crossman worked three years on the most recent version which included the fauna of Mexico plus common names in English, French and Spanish. Ed volunteered his expertise to many organizations in Canada, U.S.A., Britain and Germany. In Ontario, he was especially active in the Ontario Federation of Anglers and Hunters plus Muskies Canada, and dogmatic in exposing the ways in which alien species gained access to Ontario lakes and streams. Ed was called on often to judge in fishing contests, and this lead to research initiatives to understand the relationship between age, length, weight and fecundity in angled fish, including those of trophy size. He found pleasure in catching, preparing and eating fish. His research and public service diminished only slightly after mandatory retirement from the Royal Ontario Museum in 1995. In 2000, the Great Lakes Fishery Commission honored Ed Crossman with the Jack Christis / Ken Loftus Award "for distinguished contributions to a health Great Lakes ecosystem."
Support Us
Help our efforts to educate and train the future designers of environmental sustainability.