John R. Dymond Scholarship
Awarded to a student in second or third year; either full-time or part-time status. Awarded to a student in a Specialist or Major program offered by the Department of Ecology and Evolutionary Biology who has completed a core course in ecology ENV234H1, EEB319H1, or EEB321H1.
Awarded on the basis of financial need; academic merit may also be considered. The award may be held only once.
John R. Dymond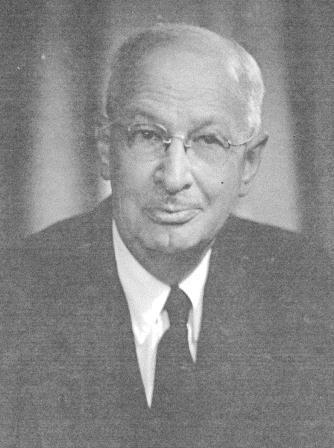 John Richardson Dymond was born in Middlesex, Ontario, 1887, his father being a farmer from England. He completed high school in Strathroy, 1906 and taught school until he entered Victoria College, U of T 1908. On graduation he was employed by seed branch, Dominion Department of Agriculture. He returned to U of T in 1920 for his MA, on animal feeds of grains plus weed seeds. In 1950, University of British Columbia conferred the degree of Doctor of Science on J.R. Dymond in recognition of his distinguished work.
Dymond was appointed lecturer of Systematic Biology. In 1922 he began a long association with the Royal Ontario Museum of Zoology, as secretary to director. His specialty being taxonomy of fishes, he expanded the collections, which became the basis of much subsequent work. Professor Dymond was appointed Head of Biology in 1948. His many years of administration at the ROM contributed to Diamond being a popular and able Head. He was concerned especially with the conservation of renewable resources and saw the role of the department as conducting the graduate level research, which would underpin conservation.
Professor Dymond had a great interest in students and was quick to help when needed. The bibliography of Dymond publications (1962) listed 19 on fish and wildlife topics, including monographs on lakes Erie, Nipigon, Abitibi, Ontario and Canada east of Rocky Mountains. Taxonomic groups of greatest interest were salmonids, coregonids, and centrarchids. In 1964 he published "History of Ichthyology in Canada".
The two central themes of Professor Dymond's professional life were the taxonomy plus biology of fishes and the conservation of fish and wildlife via public education. He was a founder of the Federation of Ontario Naturalists and in demand as an organizer of nature studies. He served on the Great Lakes Fishery Commission as chair of the Advisory Committee of Fisheries and Wildlife Research, Ontario and was named Officer of the British Empire for his many services to the Government of Canada.
As Head of Biology JR Dymond was able to expand the faculty with new hires, but the department was constrained greatly by lack of laboratory, teaching and office space. He began the process of defining these requirements plus preliminary plans for a new building and was effective at communicating to the university administration this need of the Biology Department. Professor Dymond retired in 1956 and died in 1964.
Support Us
Help our efforts to educate and train the future designers of environmental sustainability.