Ramsay Wright Scholarship
The R. Ramsay Wright Graduate Scholarship in Ecology & Evolutionary Biology was established by the Estate of late Professor R. Ramsay Wright. It is awarded to a graduate student in the Department of Ecology & Evolutionary Biology who is engaged in research in zoology.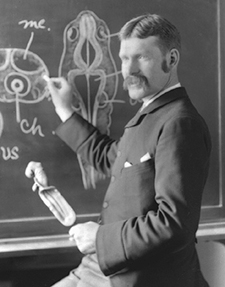 Robert Ramsay Wright was born in Alloa, Scotland, 1852, had a brilliant B. Sc. career at Edinburgh University, followed by Oxford honorary Master of Arts, 1874 and then came to Canada as Professor of Natural History, University College. With college incorporation into the University of Toronto, he became professor of biology in Arts and Science and biology professor of Medicine. Ramsay Wright's appointment was not without controversy in that there were seven candidates, all much older and more experienced than the 21 year old appointee. Ramsay Wright was rumoured to have participated in the Challenger Expedition 1872-76, which was led by his supervisor, Professor C. Wyville Thomson and the notion of participation was included in Wright's obituaries. R. Ramsay Wright graduated in 1873 and was in Canada in 1874 while the expedition surveyed the Atlantic and Pacific Oceans.
Ramsay Wright was a large and powerful man of more than 6 feet, could arrive unexpected in the lecture room and "wade into battle". He had the "happy through rare knack of instilling knowledge into the average undergraduate cranium at one and the same time." He spoke in a broad Scottish accent and left students behind with his remarkable ability to make two different drawings simultaneously with his left and right hands; none-the-less he was popular with students. He published widely on: High School Biology, Report on Fish and Fisheries of Ontario, sponges, fishes, protozoology, anthropology. Wright had a special interest in marine biology, became assistant director of the Government Marine Biology Department with stations at St. Andrews, N.B., Georgian Bay, Ont., and Nanaimo, B.C.
Within the University he was a professor, concurrently dean of Arts and Science, then vice-president plus dean. He took early retirement at age 60 after 38 years of service, to conduct biological research at Oxford and on the continent. Wright was a remarkable linguist and in retirement he translated older works in Persian and Arabic. Ramsay Wright died at age 83 with a bequest of $15,000 to the University of Toronto to endow a scholarship in the testator's name.
Support Us
Help our efforts to educate and train the future designers of environmental sustainability.